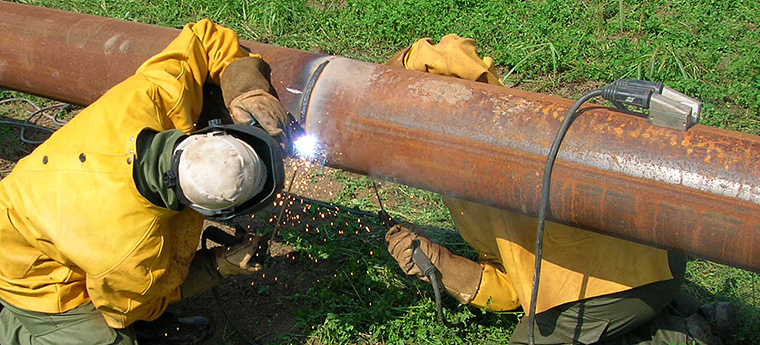 Mechanical Installation Section
Preparatory mechanical installation works and drawing up of technical and technological documentation for works.
Mechanical installation works (welding, locksmith works...)
Manufacturing and reconstruction of pressure equipment (separators, heat exchangers, collectors...)
Light steel structures manufacturing
Sheet metal cutting and bending (cutting of sheet metal up to 20mm. Bending of sheet metal up to 20mm and diameter > Ø500mm
Construction and reconstruction of pipelines (technological, linear...)
Construction, total-partial reconstruction of facilities (petrol stations, LPG installations, tanks, gathering stations, warehouses, compressor stations, production facilities, processing facilities)
 Making the calculations and specifications for the works
Construction Works Section,
Construction and reconstruction of gathering stations
Rough carpentry elements manufacturing
Wooden sheet piles and wooden formwork manufacturing
Building and repairs of access broken-stone roads
Making foundations and platforms of wooden sheet piles and broken stone for drilling rigs
Wellhead connecting construction work
Pumpjack foundation building
Building platforms and access roads of wooden sheet piles for workover units
Technical and technological preparatory civil engineering works
Electrical Engineering Section
Laying power, signal and optical cables, below the surface and on cable trays.
Manufacturing earthing and lightning protection installations for buildings and other facilities. Metal structure potential bridging and equalization.
Manufacturing low voltage distribution cabinets, power and distribution cabinets for measurement and regulation.
Site installation and putting into operation of distribution cabinets.
Defect detection with test measurement circuits, on low voltage underground cables and defect removal, with cable couplers.
Definition of routes for underground cables and installations.
Putting into operation power drives up to 630kVA.
Putting into operation frequency regulators and soft starters.
Making low-voltage installations in buildings.
Installation of explosion-proof equipment in hazardous areas.
Mechanization Section
Logistic support to construction working machines for mechanical, erection, electrical and construction works,
Construction machinery services. (excavators, graders, bulldozers, loaders, trench excavators, rollers, pipe laying machines)
Maintenance of means of production. 
Construction Department

SCOPE OF ACTIVITIES

PRODUCT/SERVICE

DESCRIPTION OF PRODUCTS/SERVICES

Construction and maintenance of:

Facilities, pipelines, accompanying mechanical and electrical services, process vessels and systems and steel structures for collecting, preparation, storage and transportation of oil and gas;

Construction and reconstruction of petrol and LPG stations.

Oil and gas collecting, gathering, measurement, dispatch and compressor stations

 

Steel pipelines for oil, gas and other fluids up to 40"

Manufacturing pipelines of corrosion-free materials

Firefighting, heating and other technological systems

 

Locksmith and welding works, and production and erection of steel structures;

 
 

Electrical mounting and installation works covering oil and gas exploration, production, transportation and use;

Construction of aboveground and underground high voltage and low voltage facility networks; 

 

Construction machinery services

Construction of access roads, platforms, foundations for drilling and workover rigs.

Construction of collection systems and water well facilities.

Independent operation of construction machinery

Abandoning and remediation of oil field well locations